Tea and Coffee World


Tea and Coffee World is an independent speciality coffee shop in the heart of Carlow town. It first opened it's doors in 2012 and focuses on delicious tea and coffee from all over the world.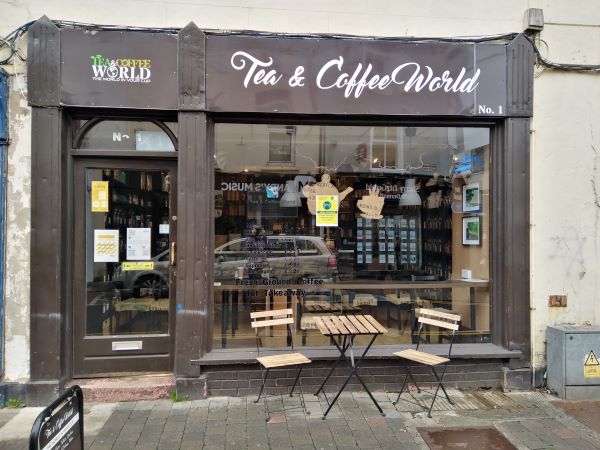 They sell around 60 different types of coffee and 100 types of tea. Apart from having your favourite cuppa in the shop, you can buy coffee beans and have them ground for you or you can take the beans home and grind them yourself.
Tea and Coffee World makes a welcome change from the soulless, corporate chains. Their coffee is delicious and unpretentious plus it's a great place to chill while watching people go by on Castle Street.
Stop by before work, call in for a mid-afternoon pick-me-up, or have a solo java fix anytime. Service is quiet but careful and decent wifi and a killer playlist are an added bonus.

Inside Tea and Coffee World
Step inside and you'll see there's seating for a couple of people at a counter looking out on to the street.
The shop is small but well laid out and fitted with shelves holding shining glass jars filled with coffee beans and tea.


The Coffee!

I spoke with Lukas who manages the shop. (Lukas really knows his beans!) He told me that their most popular coffee is Don Vito which is an Italian espresso coffee and they also use it as a house blend.
If you want to take some freshly ground coffee home, Lukas can grind it according to whether you've a plunger or coffee machine. He'll make the consistency finer if it's for a coffee maker and a little courser if it's for a plunger.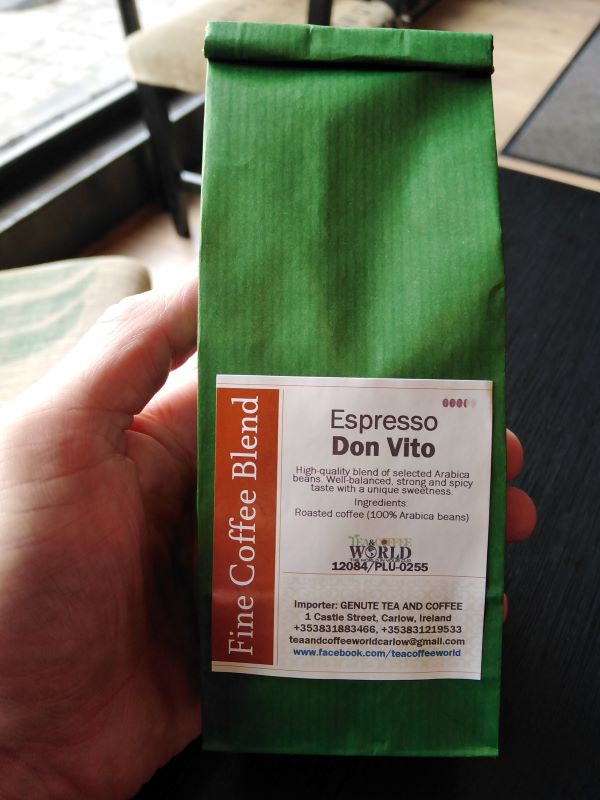 You can choose from plenty of interesting flavours such as Hazelnut, Caramel, Irish Cream and Turkish Honey.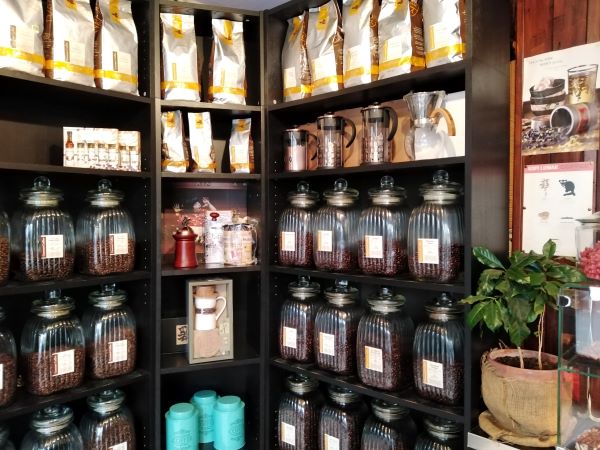 There's also a superb range of heavenly coffees making an appearance from a variety of countries like Ecuador, Thailand, Cuba, Brazil and Costa Rica.
Bringing the taste of Indonesia to Carlow town, try the West Blue Java, a unique roast which has a sweetness unlike most Indonesian coffees.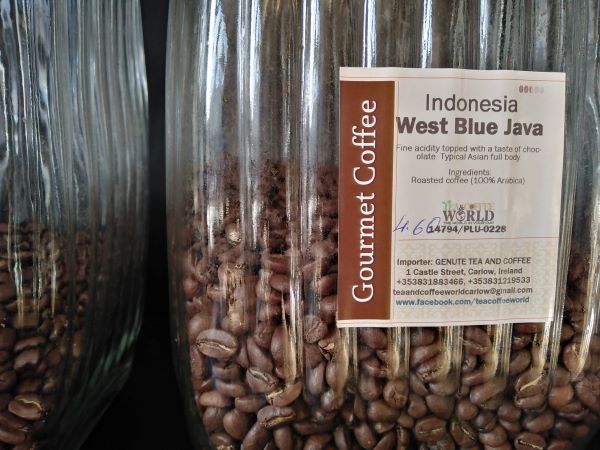 More than Just Coffee

Besides the outstanding coffee, the shop also sells a wide range of tea. Ireland is a tea-loving culture so it's no surprise that their biggest seller is Irish Breakfast Tea.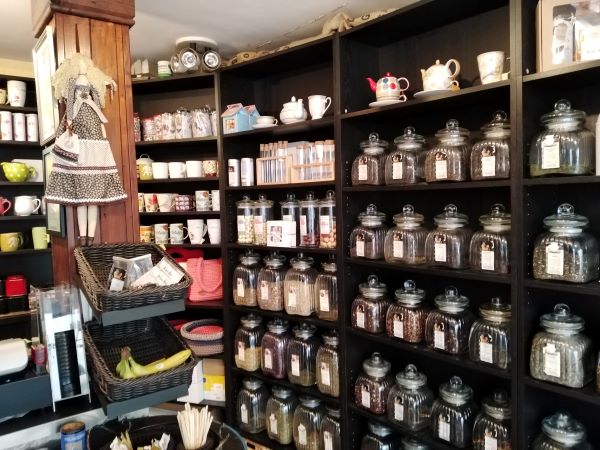 From loose leaf to tea bags, herbal teas to black teas and green teas, the shop stocks lots of different brews. Flavours include Ginger, Jasmine, Cloud Catcher, Chamomile, Bora Bora and Turkish Apple.
If you like herbal tea, order their Peppermint Tea, which is deliciously super-minty!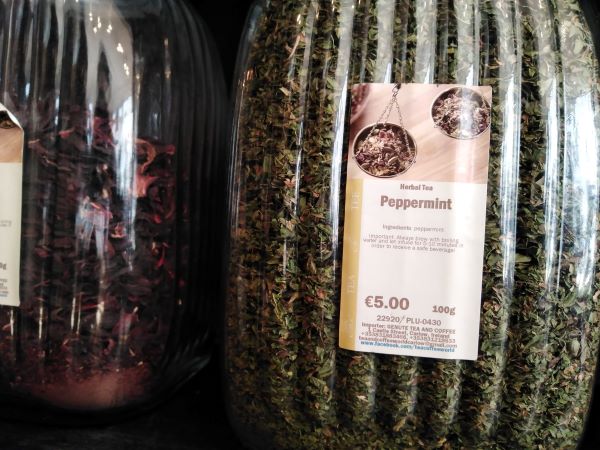 There's also a great range of gifts including teapots, cups and storage tins. They even have glass test tube style containers that can hold loose leaf tea!
Coffee grinders and syrups for coffee are also available.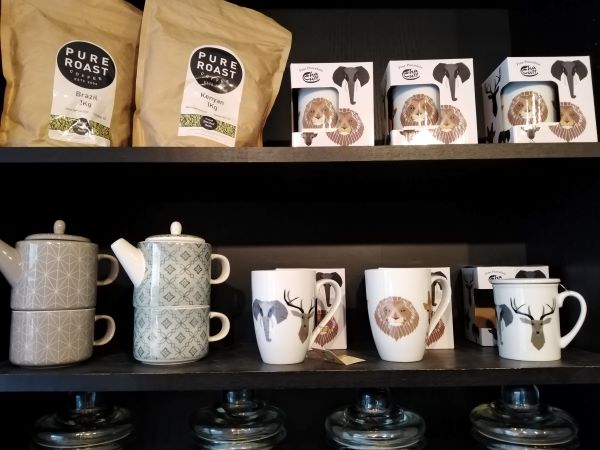 Tantalising Treats
On display on the counter are large jars of tea bears. You put one in a cup and pour boiling water over it to make a tea - like a fruit tea. Or, if you've a sweet tooth you can eat them like a sweet!
Flavours include ginger lemon, raspberry vanilla, cinnamon orange and elderberry rhubarb.
There's also little biscuits - peanut butter, marshmallow, chocolate brownie, coconut, pistachio and plain.
Pair your coffee with one of these handmade treats and enjoy!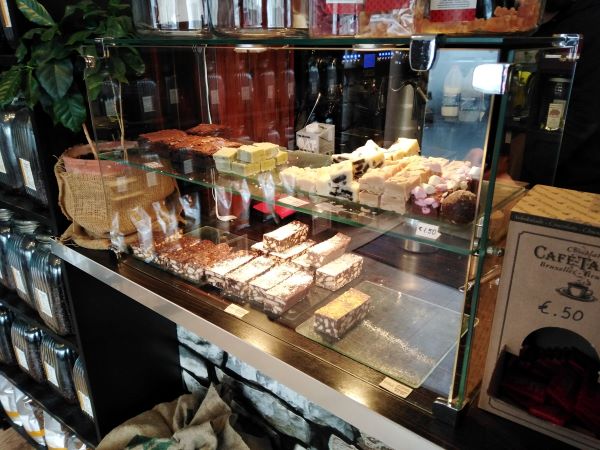 The under-the-radar Tea & Coffee World has a caffeinated (or even an uncaffeinated) beverage to suit every tastebud.
You'll happily spend an hour or more here.


Location, Hours & Contact

Location: No. 1 Castle Street, Carlow.

Hours: Monday-Saturday 9am-5.30pm.

Contact: 083 188 3466
---