Carlow, Ireland Maps to Help You Get Around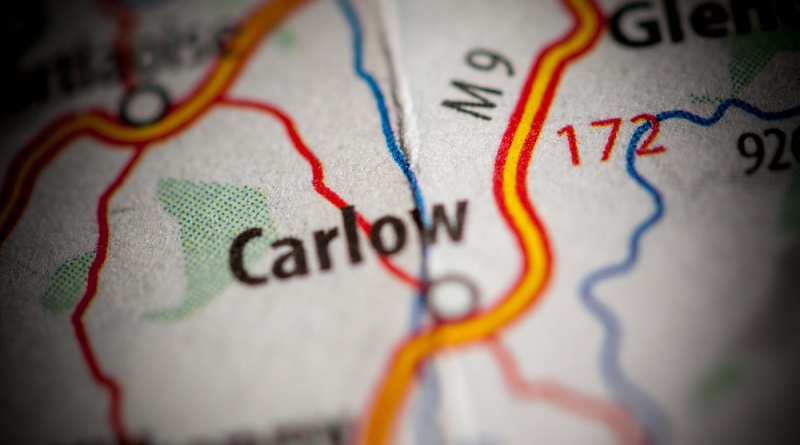 Looking for Carlow, Ireland maps to plan your vacation or just explore virtually?
You have more options than you may realise, but it all starts with good old Google.
Let's say you want to know more about Carlow Town. You pull up Google and type in "Carlow Town", instantly revealing an illustrated map of the area. Here's the quick link to that map:
The map will quickly show you the main points of interest in Carlow town, but you can also do the following:
Switch over to satellite view to see satellite images of various localities.
Go into street view to catch a real-life glimpse of various Carlow destinations.
Search for specific businesses and places.
Get directions between Carlow attractions.
You can do all of that for any location that you type into Google. This allows you to explore the county as a whole or focus on small areas that you want to learn more about or visit.
To get you started, I've generated illustrated maps of the small towns and villages in Carlow. Use the following list as a cheat sheet when you're ready to explore:

Where to Find Other Useful Carlow, Ireland Maps
Google is a great resource for exploring Carlow, but it's not the most helpful once you reach town and are ready to see the attractions come to life before your eyes. That's why I want to introduce you to some alternative maps.
There are two ways to find these maps of Carlow:
Head to the tourist office on College Street in Carlow. You can pick up paper copies of these maps and use them to make your way between attractions. You may also find maps in other locations throughout the county, so keep your eyes open.
Follow my links on this page to view the maps online and print copies for yourself. I make it possible to arrive in Carlow with your maps ready to go.

Some of My Favourite Carlow Maps
What are the most comprehensive, accurate and useful maps of Carlow? The following list will introduce you to some of my favourites. These are all worth printing or picking up once you arrive in town.
Carlow Town Map from Carlow Tourism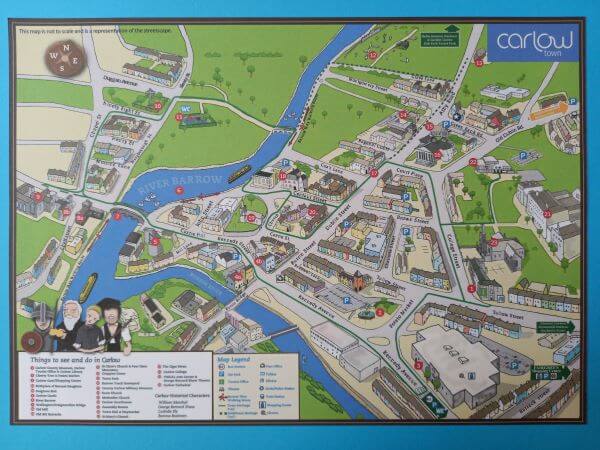 Focusing on the streets of Carlow town with a fun layout, this map highlights more than 20 things to see and do in the town. It includes a detailed legend that shows car parks, the bus station and the local library.
Leighlinbridge Map from Carlow Tourism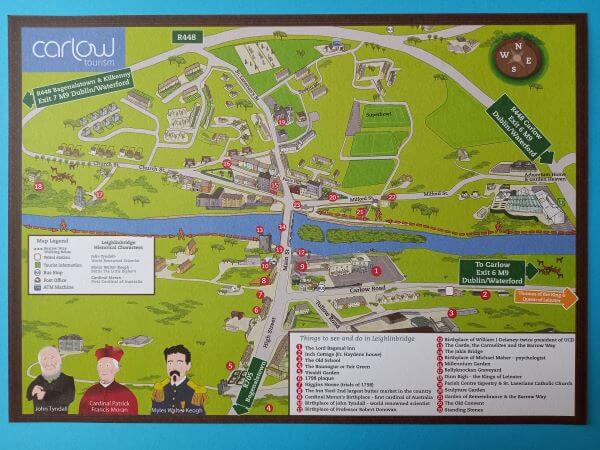 Take the fun street-view layout of the Carlow town map and apply it to Leighlinbridge. That's what you get with this map that also includes some historical characters. It shows local facilities like the post office, petrol station, bus stop and the Barrow Way walking route.
Tullow Map from Carlow Tourism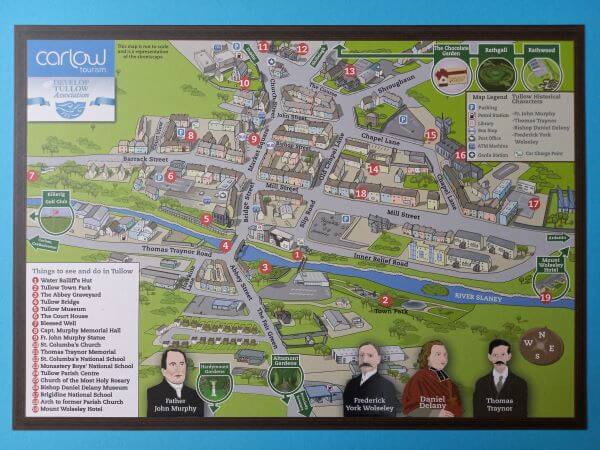 There's a lot to see and do in Tullow, and you won't miss a step with this detailed map. Of course, you'll also learn the names of some key historical figures like Daniel Delany and Father John Murphy.
Borris Map from Carlow Tourism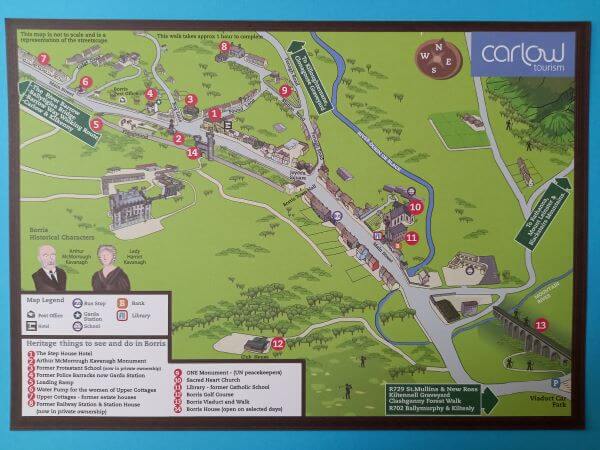 Explore 14 of the most important heritage sites in Borris. Quickly locate everything you need from the post office, the bus stop and the library to the local hotel.
Hacketstown Map from Carlow Tourism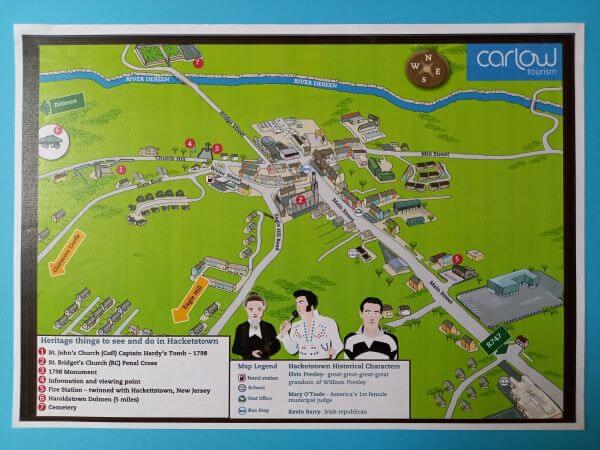 What's the connection between Elvis Presley and Carlow? Find out on this map while getting to know a few historical figures plus the main attractions of Hacketstown.
Ballon Map from Carlow Tourism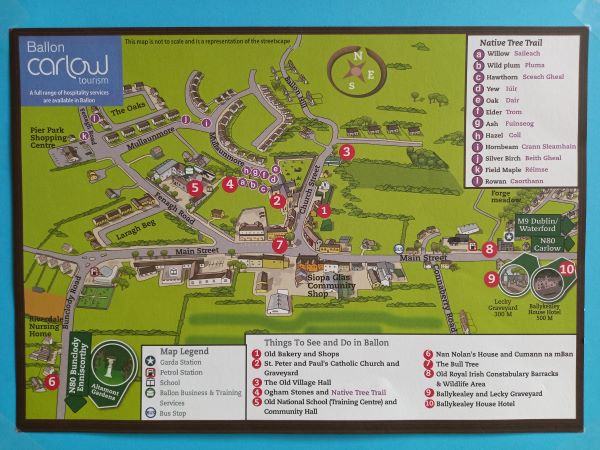 Follow the Native Tree Trail and find the Bull Tree and Ogham Stones in Ballon. This easy to understand map has lots of information on the local attractions.
Bagenalstown Map from Carlow Tourism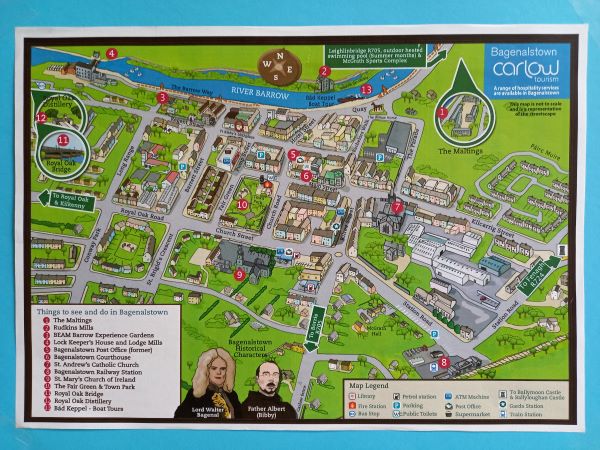 Discover 13 things to see and do in Bagenalstown like the Royal Oak Distillery and Bád Keppel Boat Tours. You'll also identify the major roadways and find simple ways to make your way through the area without getting sidetracked.
Myshall Map from Carlow Tourism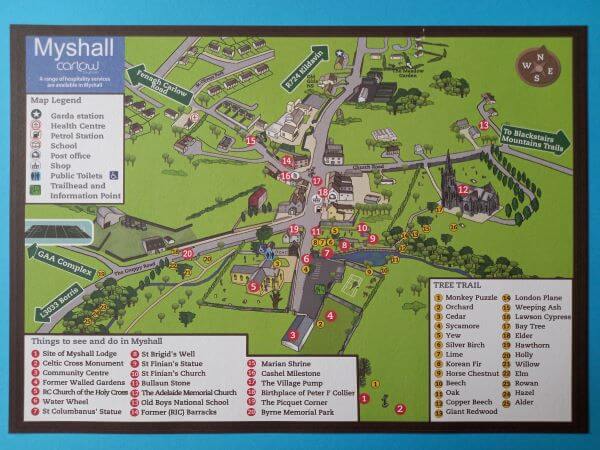 Showing 20 points of interest, this convenient map of Myshall makes finding them easy. From St. Brigid's Well to the Celtic Cross Monument, it's a perfect keepsake to remember your trip.
South Carlow Map from Carlow Tourism
Get the mountain view of South Carlow with some of the main attractions like Borris House and Huntington Castle highlighted.
County Carlow Map from Carlow Tourism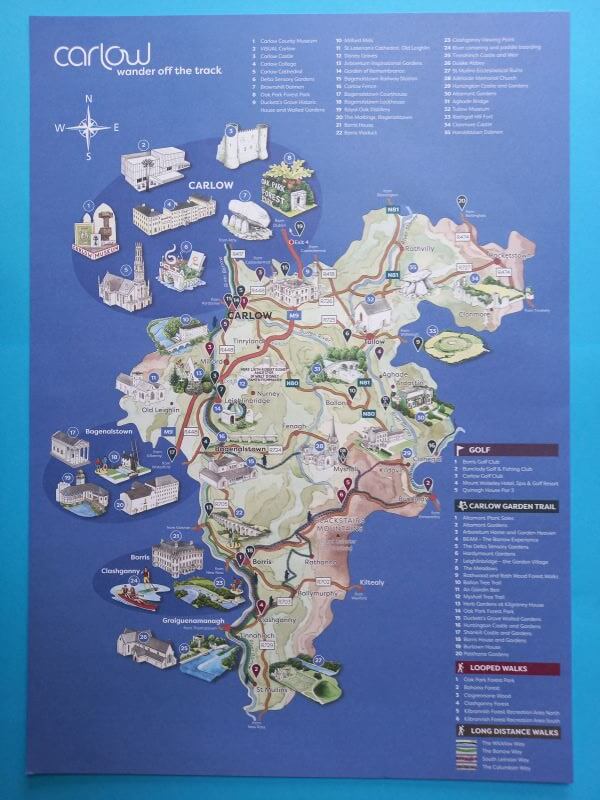 This handy map will help you get your bearings as you explore. It highlights a list of Carlow must-see attractions including walking trails, golf courses and points of interest along the Carlow Garden Trail.
If you want to get a deeper look at any of these areas, try plugging them into Google and comparing these local tourism maps to the real-time map views.

Other Articles You Might Enjoy:

---