Carlow, Ireland Blog
The CarlowAdvisor Blog lets you know whenever any new or updated Web pages appear on Carlow Advisor. Don't miss our new updates.
To subscribe to CarlowAdvisor Blog (no e-mail address necessary), RIGHT-click on the orange RSS button and then copy-and-paste the URL of the "RSS feed" into your blog reader.
Or click on the Feedly or My Yahoo! button if you use one of those. Follow their instructions.



Hacketstown - Home of Elvis's Ancestors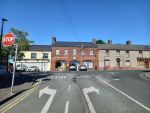 Named after the Norman family of Hacket, Hacketstown is also the birthplace of the first woman judge in the United States.
---