Carlow, Ireland Blog
The CarlowAdvisor Blog lets you know whenever any new or updated Web pages appear on Carlow Advisor. Don't miss our new updates.
To subscribe to CarlowAdvisor Blog (no e-mail address necessary), RIGHT-click on the orange RSS button and then copy-and-paste the URL of the "RSS feed" into your blog reader.
Or click on the Feedly or My Yahoo! button if you use one of those. Follow their instructions.



The Nurney Cross - A Stone High Cross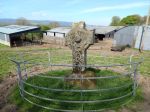 Standing at a slope in a field behind a church, the Nurney Cross is made of granite and was probably used as a meeting point for religious ceremonies.
---