Made in Carlow


Since it opened, Made in Carlow has earned a reputation for consistently offering high quality art by artists who have lived in and been inspired by the beauty of County Carlow.
On the day I visited, I got to meet the shop's owner - Maurice O'Rielly and chatted with him for a little while.

I asked Maurice how the shop came about.
He told me the Carlow Arts Festival deals with all the big, international artists and a lot of the local artists felt they didn't have any way to participate in it. The Carlow Fringe Arts Festival grew out of this, giving local talent a stage to display their work.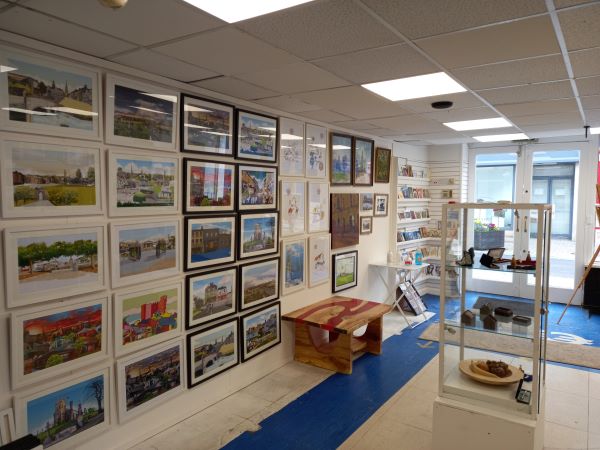 "Fringe started in 2016, grew a lot in 2017 and afterwards we wanted to continue and do something more and so the idea for the shop sprung out of this". He said.

As soon as he opened the doors, Maurice thought he was just going to have a small shop. He intended to divide it in half as it was such a large unit. But right away, he saw that there was a lot of local artists who wanted a space to display.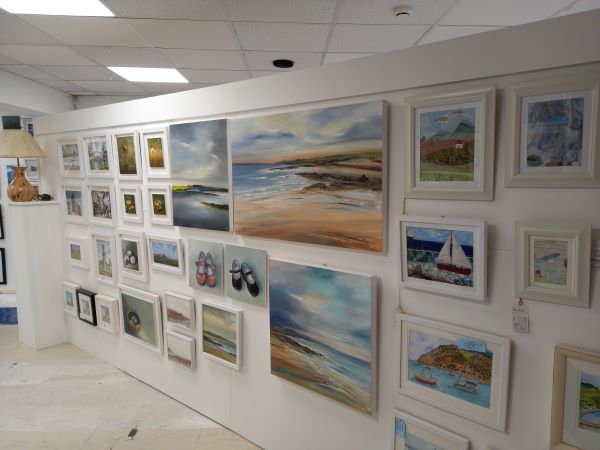 As you wander throughout the shop, you'll be mesmerised by gorgeous pieces, hardly knowing what to admire first.


Some of the Artists on Display in Made in Carlow

Oladimeji Olaniyan
Originally from Nigeria, Oladimeji Olaniyan told me he started painting professionally in 1999. He represented Nigeria in different exhibitions and has also had his paintings shown in the VISUAL, Carlow. Most of his themes are crowd scenes and abstracts.

The Durbar Festival
His paintings of crowd scenes are strongly influenced by his upbringing in Lagos, a city with a population of over 20 million people. The beautiful, bright colours of the local markets are reflected in his art.
Later in life he moved to the northern part of Nigeria near the Sahara Desert and this very different culture and landscape also inspires his painting.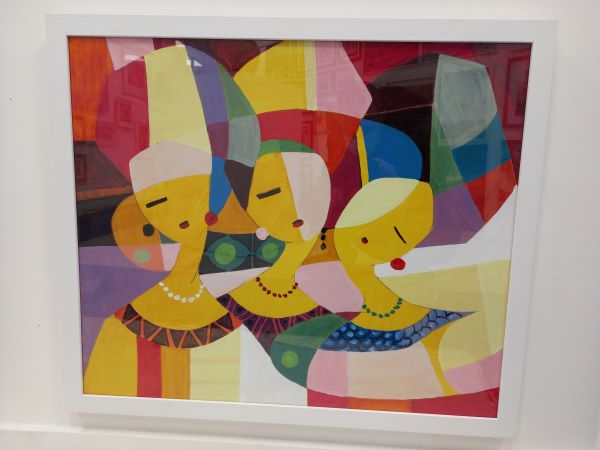 At the Party - an abstract painting of three women with their colourful costumes and traditional African motifs
Oladimeji is a professional teacher and works in Made in Carlow as a gallery assistant. He's available for art lessons here in the gallery.


Ben Jelliman
I also met Ben Jelliman and he spoke to me about his work. Ben has a Degree in Fine Art from Sheffield Hallam University and moved to Carlow in 2006.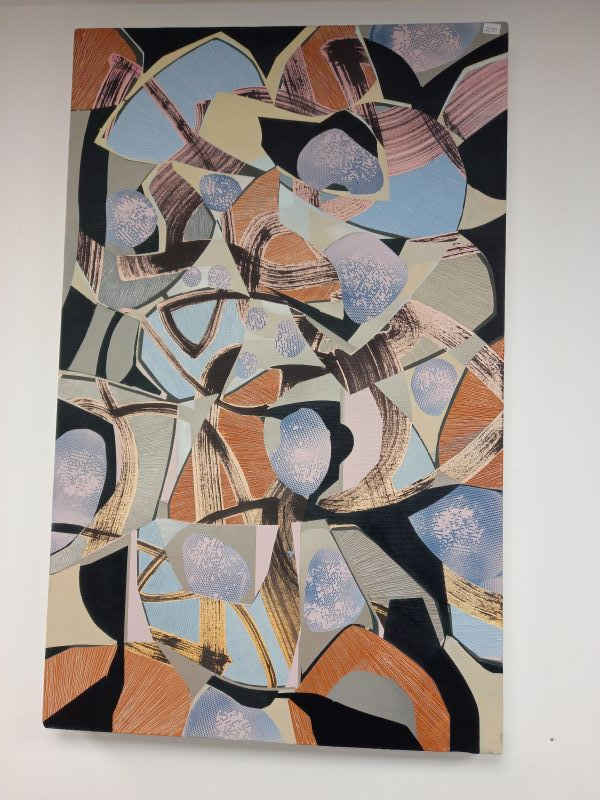 Mycelium
He focuses on abstract painting and his inspiration comes from the natural world. With a keen interest in horticulture and mycology, Ben has created paintings that reference the mycelium in the soil.
His work reflects how different elements come together to create a coherent whole.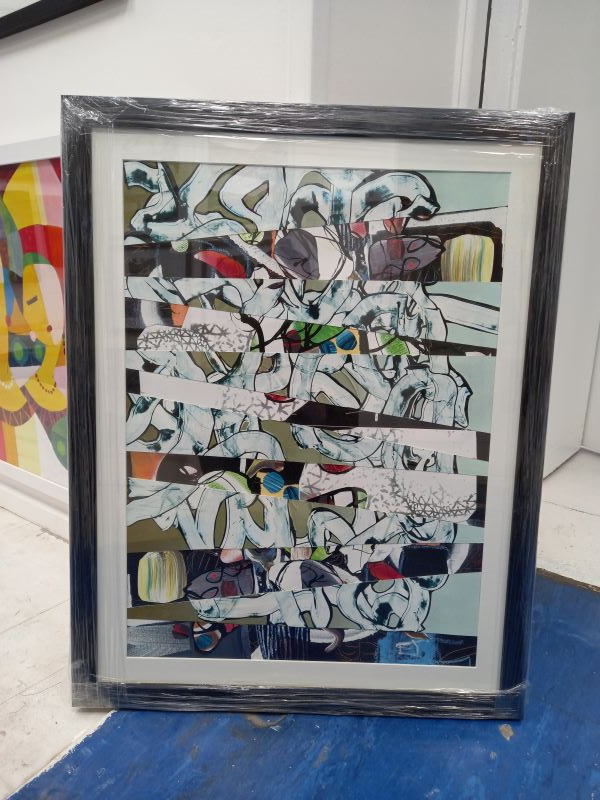 In the above painting he draws his influence from the cut-and-paste culture of the '60s and today's sample-based music. Taking prints of his own original artwork and using it to create repetition as you would in music, Ben constructs a rhythm amongst the chaos.
Vibrant and captivating, his pieces have lots of motion and depth.


Gala Hutton
Gala Hutton is a local musician and artist. His popular prints of scenes of Carlow are very colourful and very well done. Maurice told me that Gala has a good eye and a good sense of composition.
Some of his paintings of Carlow town are based on the layout of ancient Rome!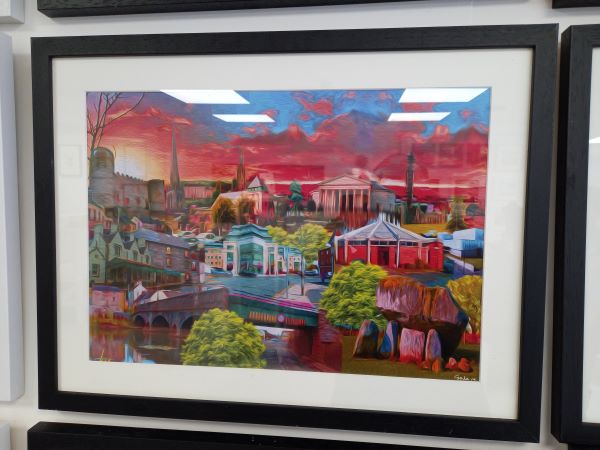 Gala's other collection of paintings - Unfeasible Bicycles could be described as very whimsical, a kind of fantasy, colourful but very different to his Carlow scenes.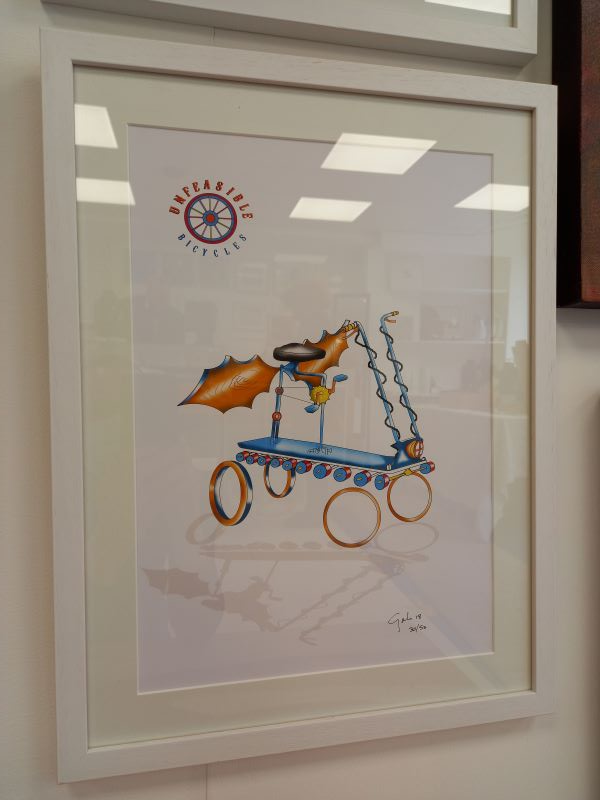 He's done lots of murals around Carlow town, the most well-known being the girl on the tightrope on Bridewell Lane.


Ray Harmon
Graiguecullen native, Ray Harmon turns pieces of wood into astonishing examples of art. He's been doing woodturning for a long time and there's a beautiful style about his pieces.
He's able to see things in a fragment of wood that many people wouldn't. It's hard to believe what a lump of timber can turn into, in the hands of an expert.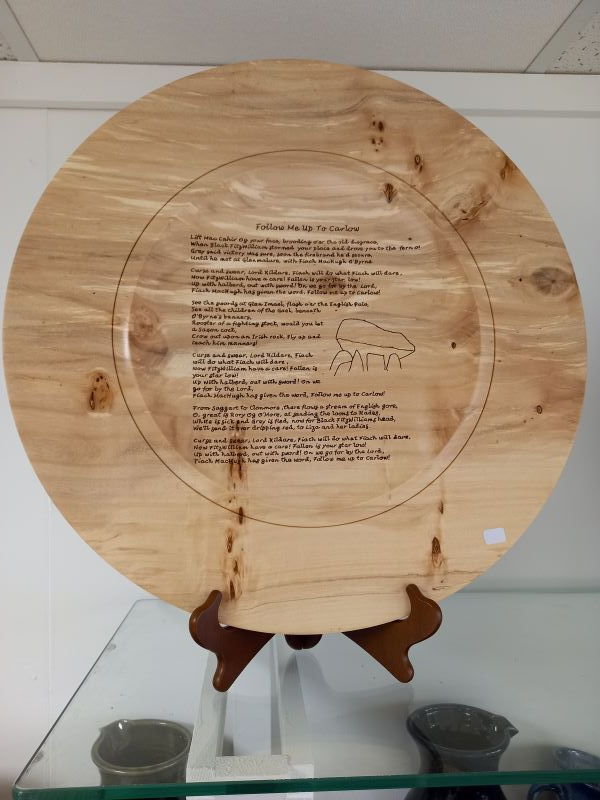 One of his standout designs is this lovely piece of poplar. It's a large flat disc and he's engraved the words of "Follow Me Up to Carlow" on it.


Keith Dowling
The one word to describe Keith Dowling's photography is captivating. A talented photographer, Keith doesn't use any filters or photo editing software, he just waits for the light to be perfect. The results are amazing and the depth in his photographs is incredible.

His photograph of the view up towards Carlow town from Graiguecullen at sunrise capturing the light hitting the bridge is stunning.


Bobby McLean
Born in Glasgow, Bobby McLean would describe himself as a colourist. He attended the Glasgow School of Art and has a great knowledge of art history.
He's been painting in Carlow since 1992 and his depictions of the town have a surrealist feel to them. Bobby is accomplished and experienced to say the least.

One of his most popular paintings comes from his Pink Elephant series. This particular one shows cars travelling underneath Staplestown Road, Railway Bridge while elephants cross above them.


Pat Purcell
A professional graphic designer working here in Carlow, Pat Purcell's eye-catching digital prints and paintings are superb. He focuses mostly on celebrities, Irish political leaders, historical figures, writers and musicians.

Che Guevara, Amy Winehouse, Johnny Cash, Luke Kelly and Jack Nicholson - all the big names are here. Some are shown with exaggerated features while others are presented in a more realistic manner. Either way, the level of detail in his characters is amazing.


Trudi Doyle
Trudi Doyle is best known for her fantastical images of mythical Ireland. Her pallet tends towards lots of beautiful blues and greens and there's a lovely soft, feminine feel to her work.
Competent in her craftsmanship and her composition, the more you look at her paintings the more you see all the amazing stuff that's going on.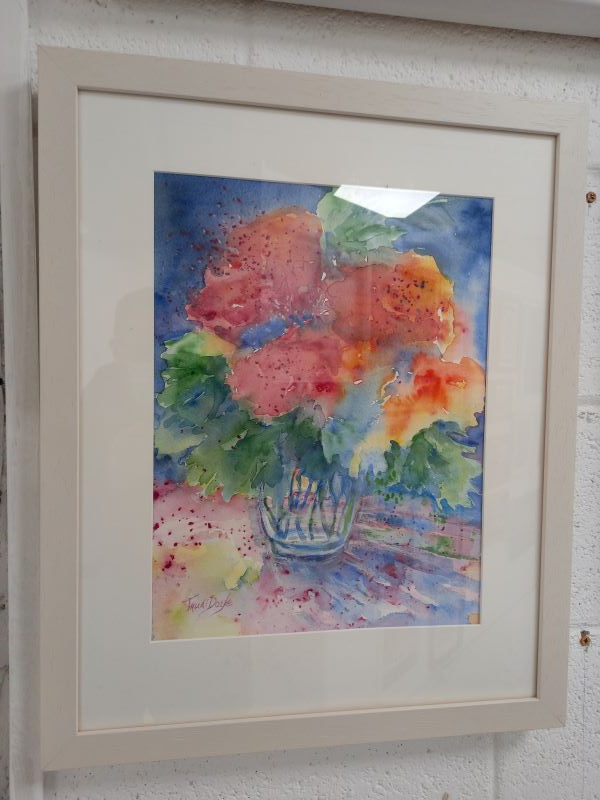 Her exceptional pieces include landscapes, street scenes and interior scenes.


Jim Behan
Jim Behan of Dolmen Potters has been making pottery in Carlow since 1970. A retired school teacher, he takes a very educational approach towards pottery always exploring new colours, methods and styles.

To achieve the gorgeous glaze on his pottery, a very interesting and ancient technique is used. The pottery is placed in a wood-fired kiln, a fire is built around it and when it's at its hottest, salt is thrown in. A chemical reaction between the salt, the fire and the clay is what forms the glaze.


Harry Binions
A retired farmer whose always had an interest in art, Harry Binions is a realist painter who focuses mostly on animals. His paintings are very detailed and lifelike and you'd wonder how many hours were spent creating such gorgeous pieces.

A particular standout is his painting of a pheasant which is painted in a realistic almost photographic way.


Rennie Bueting
Originally from Holland and living in Carlow for many years, Rennie Bueting is an accomplished printmaker and painter. Having returned to college, she earned a Master's Degree in Fine Art, using that now to make beautiful printworks.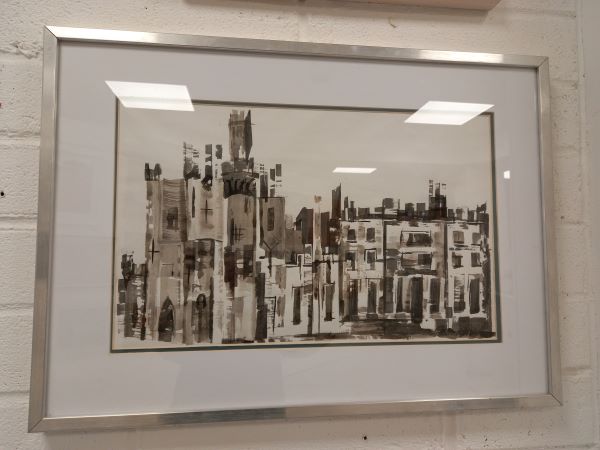 Her black and white piece of Duckett's Grove was done with just sticks, a wine bottle cork and ink. No pens or brushes were used!
Rennie was involved in the fight to save the lime kiln tower at Carlow Sugar Factory and has created many superb photo etchings of the tower.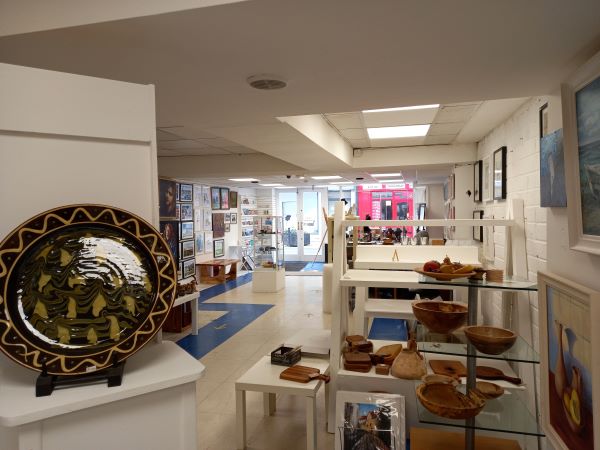 The shop continues to go from strength to strength showcasing work that reflects the local area.
For a slice of Carlow life and inspiration, visit Maurice O'Rielly at his gallery, Made in Carlow.
You can shop online here.


Location, Hours & Contact
Location: No. 139 Tullow Street, Carlow.
Hours: Monday-Saturday 10am-6pm.
Contact: Mobile 087 6149 874.

Other Articles You Might Enjoy:
---