Macs Menswear


Macs Menswear has been at the forefront of men's clothing in Carlow since 1948. Located at 6 Tullow Street, it's hard to miss with its distinctive blue shop front and attractive window displays that invite you in.
The shop is a hub for simple but stylish menswear collections covering casual, smart casual and formal clothes.
Macs stands apart because of its commitment to quality, from the products they stock to the top-notch customer service.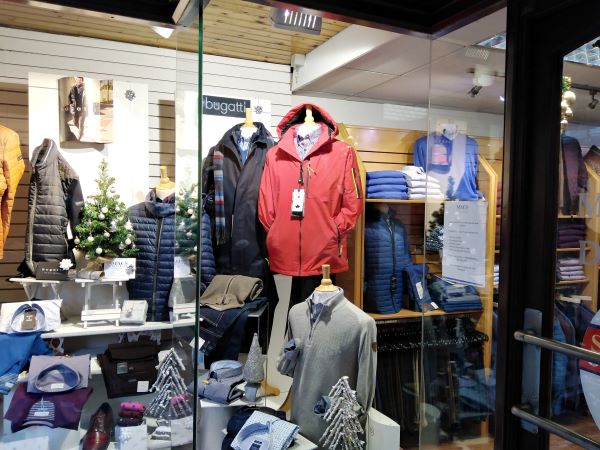 The eye-catching window display

Let's Step Inside
Step inside Macs and you'll be warmly greeted by owner Declan McDonald or any member of his team.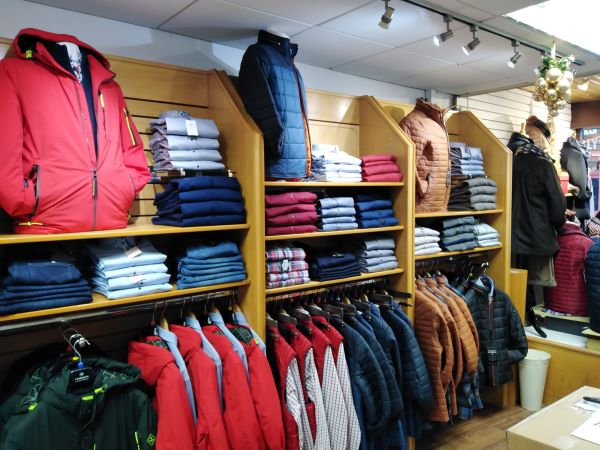 Declan told me that the one thing his father (Tom McDonald) would've said is that the customer is always king and this is certainly true here as they go above and beyond to make sure you are satisfied.
They know the majority of their customers and if somebody needs their service in a hurry, be it an emergency or whatever, no matter the day or time, Declan is very accessible and accommodating. This excellent dedication to customer service is what garnered Macs a reputation for being one of the best menswear retailers around.


Need to Freshen Up Your Wardrobe? Let Macs Menswear Sort You Out!

Magee
Macs sell one of the most popular brands in suiting, a staple for any well-dressed man - Magee of Donegal.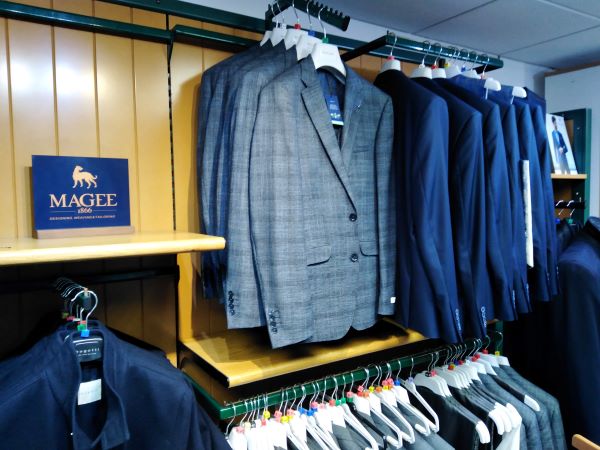 Declan retails their suits, jackets and trousers and you can even hire Magee suits upstairs. Famous for their Donegal tweed blazers, Magee is a high-quality product at the top end of the market.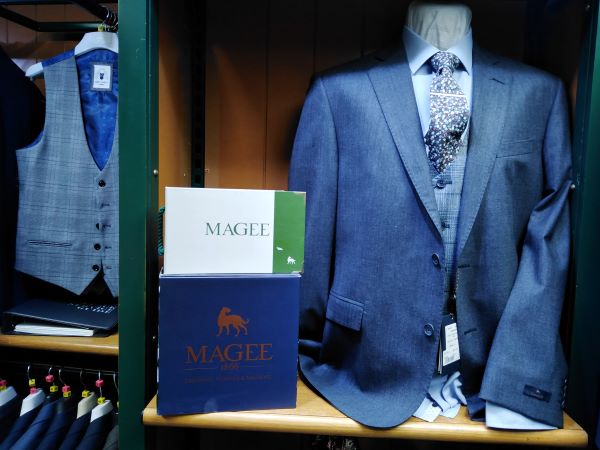 Bugatti
Fans of Bugatti are in for a treat as it's one of the shop's leading brands.

It's a full lifestyle brand doing everything from jeans, sweatshirts and t-shirts to shirts, coats, jackets and shoes. This is a really successful label that's been around for a long time.


Casa Moda
Another strong label that they stock is the German brand - Casa Moda. With lots of colours, their shirts and knitwear are very popular. One of the great things about this label is that they do large sizes - going up to 6XL and again all with lovely bright colours.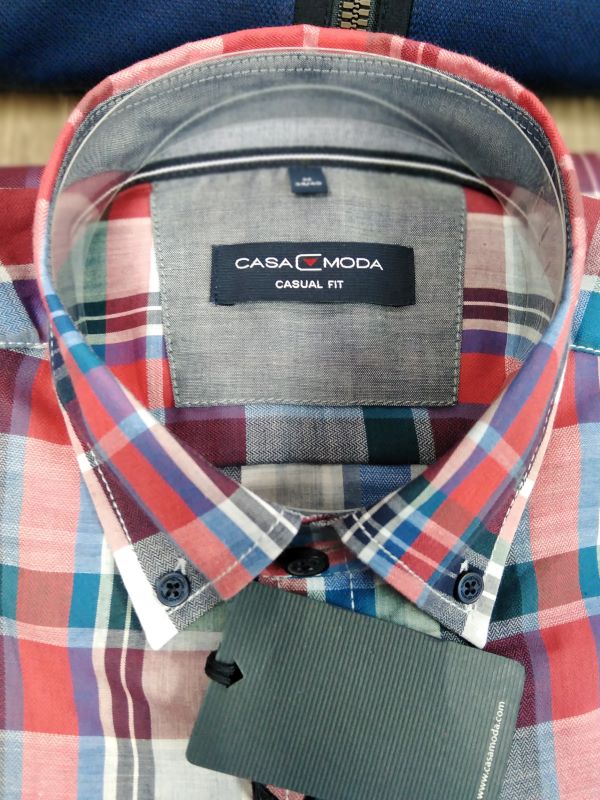 André Menswear
Macs also offer a range of apparel from André Menswear, an Irish clothing company set up by Roscommon man Oliver Kelly. André is a very recognisable lifestyle brand doing knitwear, jeans, chinos and more. Perfect for everyday wear but smart enough if you're going for a few drinks.
The shirts have gorgeous detailing on the collar and cuff!


Meyer
Making an appearance is the Meyer label which specialises in high quality trousers, chinos, jeans and belts. These well-made, attractive, excellent fitting bottoms come with great functional details and are ideal for business casual.
The cotton and jeans bottoms are pre-washed so they won't shrink when washed at home!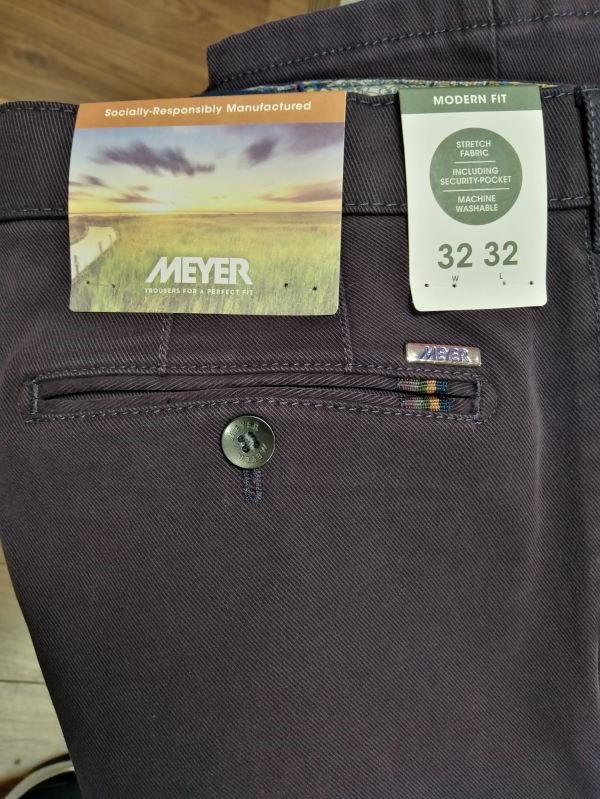 White Label Menswear
You'll also find a range of attire by White Label Menswear, a Belfast based clothing company specialising in suits. Their clothes have lovely buttoning and detailing and a nice feature of this brand is that you can mix and match the different components of their suits. So you can get any size jacket with any size trousers with any size waistcoat!


Scott & Wade
Macs carry the Irish brand Scott & Wade. Look sharp with quality, fashionable clothes geared towards guys in their late twenties and early thirties.
The stylish shirts are a standout.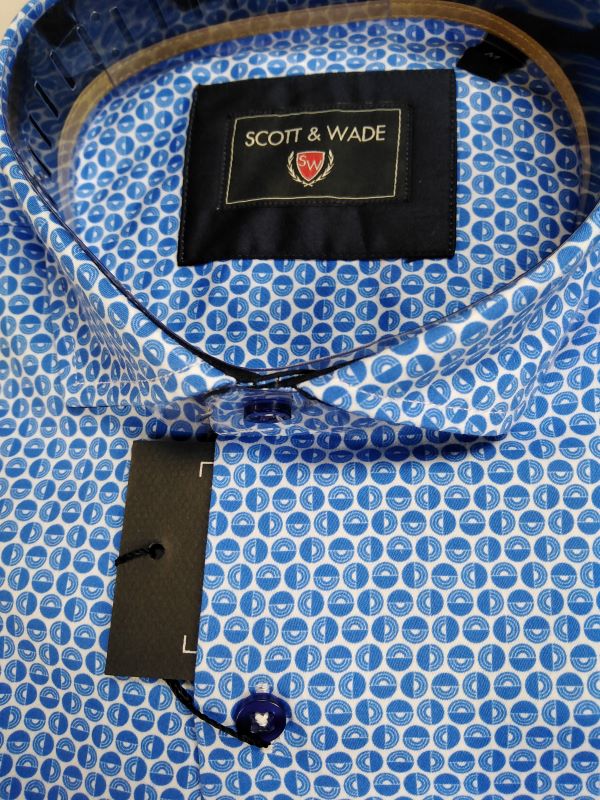 More Brands and Shoes...
Also included in the shop's catalogue of labels are clothes from lesser known brands like Redpoint (leather jackets), Giordano and Baileys. And when it comes to shoes, Macs has a full selection including Bugatti, Dubarry, John White and Front.


Formal Suit and Wedding Suit Hire
Upstairs there's a formal hire section. Here, you can meet the dress code for all occasions. If it's a black tie event, you can hire your tuxedo (dinner suit), shirt and dicky bow. If it's a wedding, they cater for the groom, his entourage and even the page boys.
Need clothes for ANY special event? Macs make it easy. They even hire black suits for funerals.


The Story Behind Macs
Macs Menswear opened at its present location in 1948 by Evan McDonnell (No relation to Declan's family).
In 1951, Declan's father, Tom McDonald came in as a shop boy of around 17 years of age to serve his time. He was here for about four years alongside Arnold Mahon of P.J. Duffy's Drapery shop in Tullow.
Tom emigrated to the United States in 1955, working in various jobs before taking a position in a department store in New York.
After receiving a letter from Evan McDonnell asking him to come back and manage the shop, Tom returned to Ireland and started back in Macs on the 4th of July 1960.
Working for the family until 1975, he purchased the shop that same year when it came up for sale.
Declan began working in Macs in 1991 and has been here since.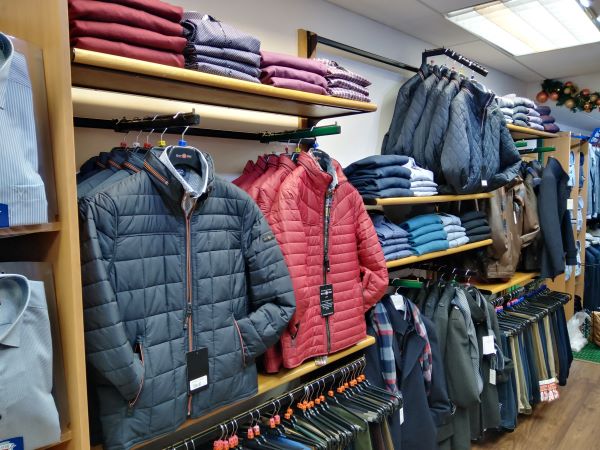 The next time your wardrobe needs a refill, pay a visit to Macs Menswear. It's the perfect place for picking up your casual clothes and finding something for that special occasion.
You can shop here at MacsFormalWear.com.

Location, Hours & Contact

Location: No. 6 Tullow Street, Carlow.
Hours: Monday-Friday 9.30am-6pm. Saturday 9.30am-5.30pm.
Contact: 059 91 31555. Mobile 086 6066 598.
---