Delta Sensory Gardens


The Delta Sensory Gardens are part of the Delta Centre which is a centre for adults with intellectual disabilities. In 1990, it was started by Eileen Brophy and a group of like-minded people who had children with special needs.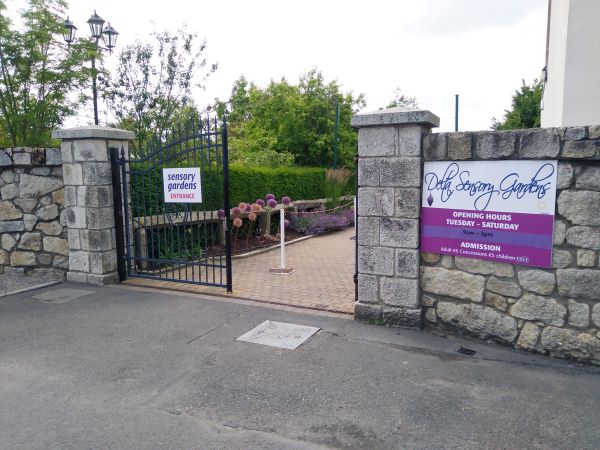 These 2.5 acres boast a waterfall, a garden designed by a Chelsea Flower Show gold medal winner and eye-catching limestone sculptures.
The gardens are interconnected and are used as a therapeutic focus as well as an income stream from visitors.
On the day I visited, gardener Pat Olwill showed me around telling me about the theme and features of each garden.
Getting There
The Delta Centre is only a 5 minute drive from the town centre.
At the Athy Road Roundabout, take the third exit onto the N80. Then take the first right into Strawhall Industrial Estate.

Entrance to Strawhall Industrial Estate from N80
Go to the end of this road and the entrance to the centre is on your left.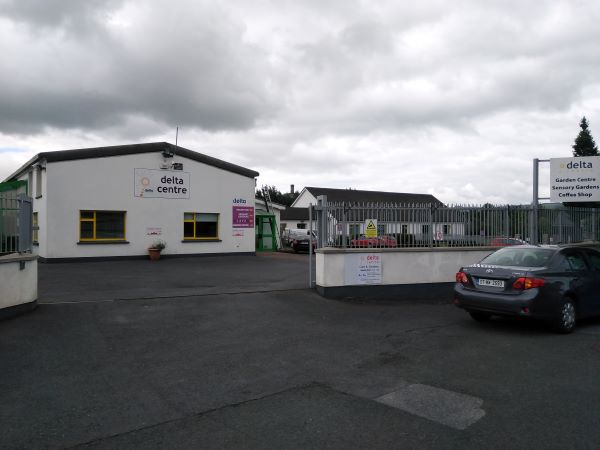 Entrance to the Delta Centre

The Gardens

Celtic Walk
Award-winning garden designer Paul Martin advised on the planting scheme for the Celtic Walk. Here you'll find alliums, irises, thyme, Russian sage, Verbena bonariensis and different types of grasses.
There's also some lovely pieces of "Carlow Fence", so called because you don't find it in any other county. This particular fence was found in ditches all over Carlow and brought to the Delta Centre.
It's made of hand-cut granite and is about 100 years old. Pat told me that you'll still see some examples of it in Fenagh and near Milford.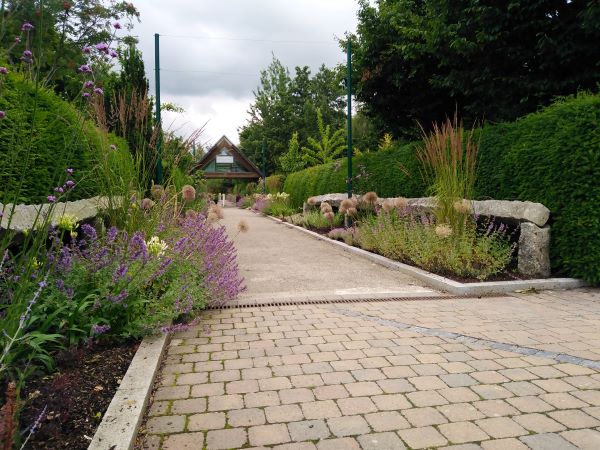 Patio Garden
You'll notice that the Patio Garden has a circle theme. If you look down, there's four different types of circle in the paving and the pond is also circular!
The paving came from Tullow Street in the town centre when the street was being resurfaced in 2000.
Take some time to sit and relax under the sun sail shade canopy.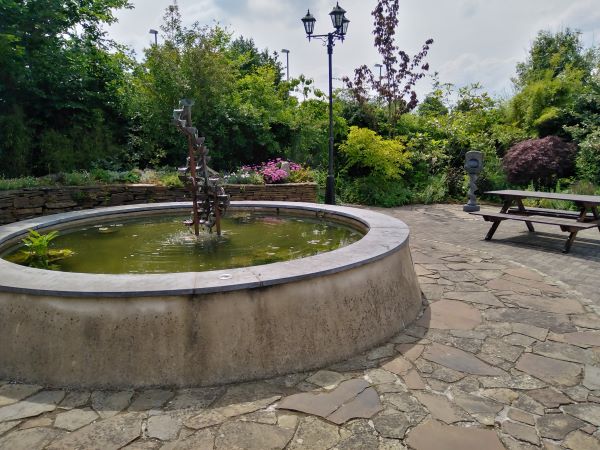 Games Gardens
Divided into three sections, the Games Gardens consist of two small lawns and a games area. There's giant versions of chess, Jenga, draughts and snakes and ladders.
All the sculptures including the hammer and nails, the adjustable wrench and the garden shears were made by Bob Frazier, sculptor-in-residence at the Delta Sensory Gardens.

Sculpture Garden
The Sculpture Garden has more fantastic designs by Bob.
You'll notice that the pieces don't have any names on them and it gets you thinking as to what they could be. Is it a pumpkin or a pineapple? Is that a seesaw?
These pieces are beautiful and very tactile. They have a nice smooth finish and then a rough part so there's a lovely contrast.

Peace Garden
The Peace Garden has lots of herbs growing in raised beds. The beds are divided into three sections: culinary herbs (which are used in the café), medicinal herbs and cosmetic herbs.
This sheltered garden also features pony tail grasses and an eye-catching granite ball with water flowing out of it.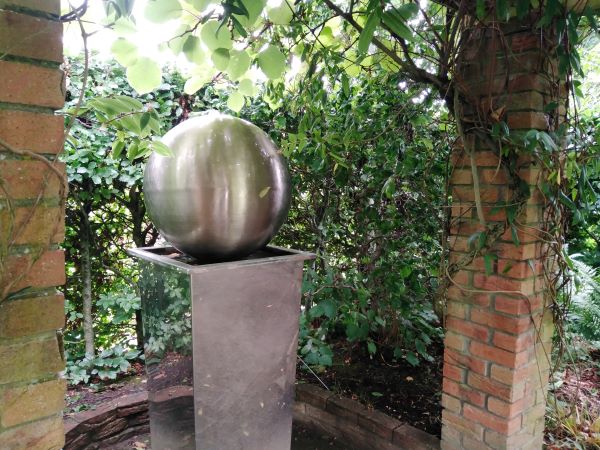 Stainless steel ball water feature in the Peace Garden

Willow Garden
Initially designed and planted by German couple Klaus Hartmann and Heike Kahle, the Willow Garden features living willow sculptures.
There's a weeping willow, beech hedging and even a willow fedge - a cross between a fence and a hedge!
The granite sculpture in the garden was originally outside the library in the town and was carved by Martin Monks.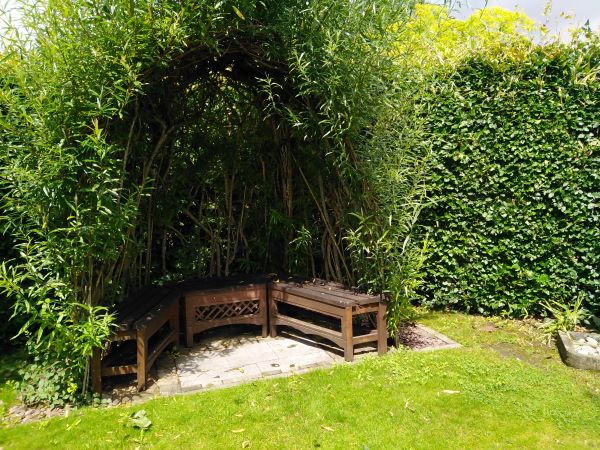 Mediterranean Garden
This started off as a walkway between two gardens but now the Mediterranean Garden is a garden of its own. There's hedges growing up on both sides so it's a very sheltered and secluded area.
Here you'll find a lavender plant, different types of dahlia and even a courgette!
If you have a seat and some pots, even in the smallest of areas you can create a garden.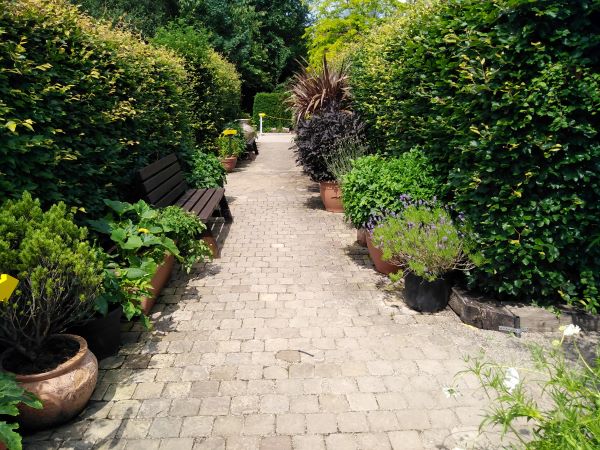 Formal Rose Garden

In the Formal Rose Garden your eye is immediately drawn to the time tide ring. This spectacular sculpture was brought over from the Chelsea Flower Show.
It isn't your traditional sun-dial as it functions as a calendar rather than a clock.
At mid-day the sun hits an orange disc on the rim of the ring and a beam of light shines on the appropriate month.

Waterfalls
Dublin-based garden designer Gordon Ledbetter designed the ponds and waterfalls.
The ponds are filled with Japanese Koi and goldfish and it's very soothing and relaxing to watch them swim.
This garden has wisteria, magnolia trees, cotinus (smoke bush) and lilac.

Pavilion
An ideal place to sit if it's raining, the Pavilion offers shelter and yet it's open to the elements and open to the garden also.
It's lush with dierama (angel's fishing rod), hollyhocks, nepeta (catmint), clematis, photinia red robin and a columnar oak tree.
From here, there's a lovely view of the waterfall.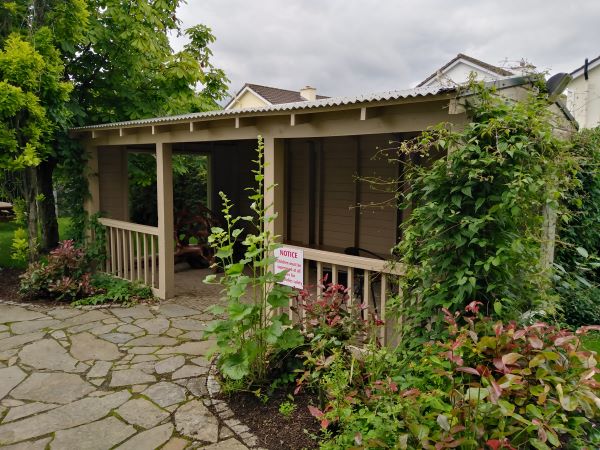 Iris O'Brien Health and Wellness Garden

Another garden designed by Paul Martin, the Iris O'Brien Health and Wellness Garden won a gold medal at Bloom.
It's  planted with hostas hydrangeas and olive trees and the bright slabs which reflect the sun give the space a lovely Mediterranean feel.
It also features a floating table which seems to glide out from the pond!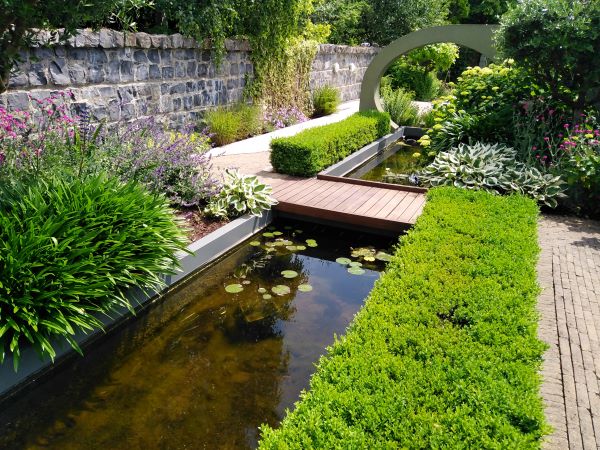 Woodland Walk
When you enter the Woodland Walk you can either go left or right and part of this path even brings you behind the waterfall.
It has some nice seating for you to relax and enjoy the peaceful surroundings.
There's a wild area in the middle of the walk which is home to rabbits and the occasional fox. This space was made using the spoils from digging out the ponds.

Stolen Child Garden
Designed by Chelsea Flower Show gold medal winner Mary Reynolds, the Stolen Child Garden takes its name from a poem by W.B. Yates.
Paving sculptures of some words from the poem can be seen on the ground as you're entering the garden.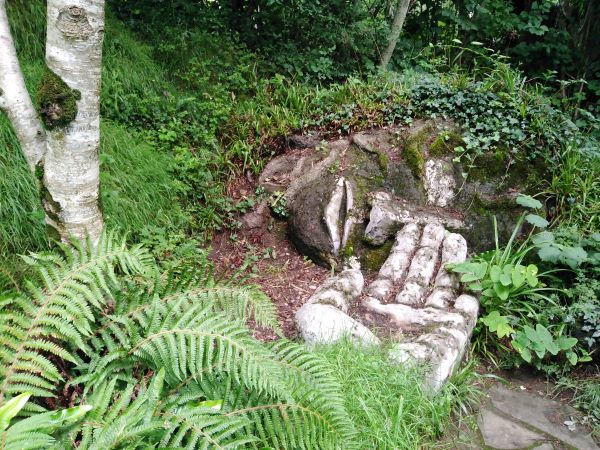 Roof Garden
The Roof Garden is the area on the roof of the A Frame. Though not really a garden, the roof holds wooden boxes planted with sedum grass which is seasonally planted and is at its best in late summer.
Pat told me that the A Frame was brought over from the Chelsea Flower Show where it was being auctioned for Shelter - a London based homeless charity.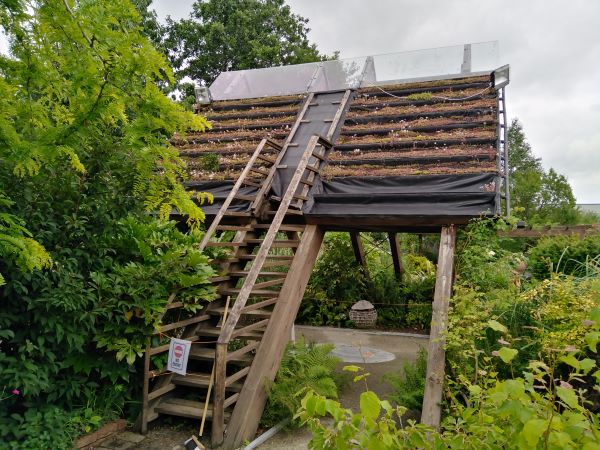 Five Senses Garden
The first thing you'll notice when you walk into the Five Senses Garden is the impressive kugel fountain. It's amazing to think that this solid Indian marble ball is floating on water!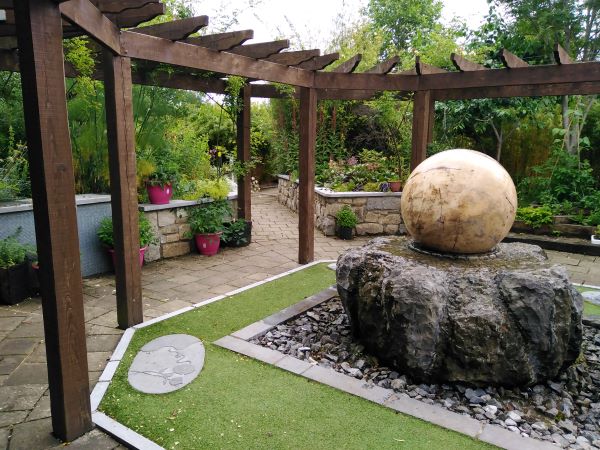 The garden is divided into five different sections: hearing, taste, touch, smell and sight.
Home to water, bamboo and grasses, the hearing section also features a pond shaped like an ear.
The taste area has everything edible such as an apple tree, strawberries, raspberries and a plumb tree.
The touch section features lots of different tactile materials like granite and wooden railway sleepers.
The smell section includes lavender and a curry plant while colourful flowers and shrubs abound in the sight area.


19/2016 Memorial Garden

The 19/2016 Memorial Garden features a polished limestone sculpture engraved with the names of the seven signatories of the Irish Proclamation.
Built in 2016, the garden also has a reflective pond. The water in the pond contains a dye that gives it its reflective quality.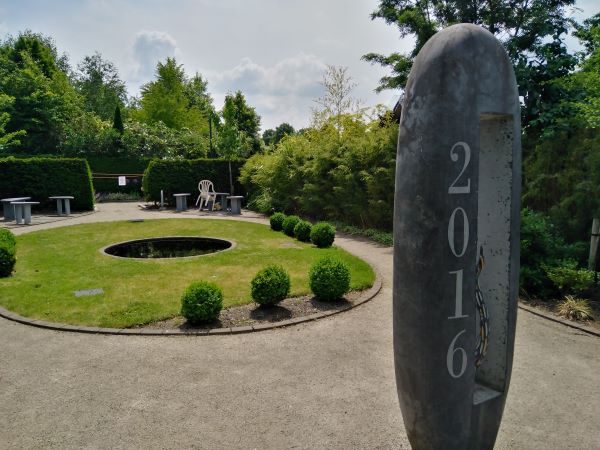 Circle of Life
Designed by landscape architect Elma Fenton, this garden is more of an architectural space than a plants garden.
Consisting of larch timber around its sides and a mirrored sculpture at its centre, the garden has a distinctive spiral shape. It's home to dogwood and hornbeam trees (poor mans beech) and pheasant's tail grass.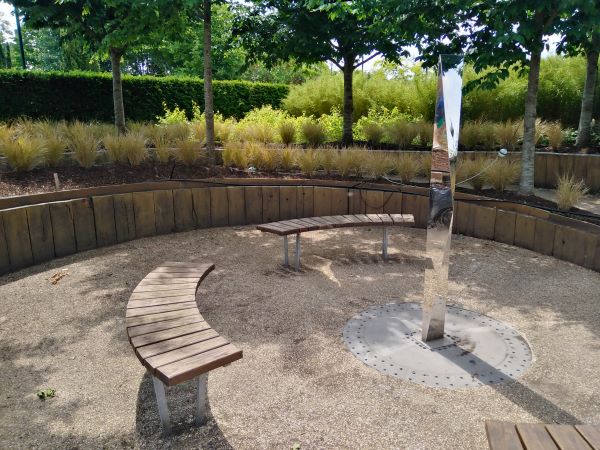 Thistle Fountain
Adults and children alike are fascinated by the Thistle Fountain and it's the first thing you'll see just to your right when you enter the gardens.
With water spraying out of 127 nozzles making a near perfect sphere, you'll find yourself standing there gazing at it. But if it gets windy - it's time to run!

Musical Fountain
This is the room where water dances!
The original version of the Musical Fountain came from near Nottingham in England. But after years of service it was retired and a new one was brought in from China.
It's housed in its own dark room complete with different coloured flashing lights and is mesmerising to watch.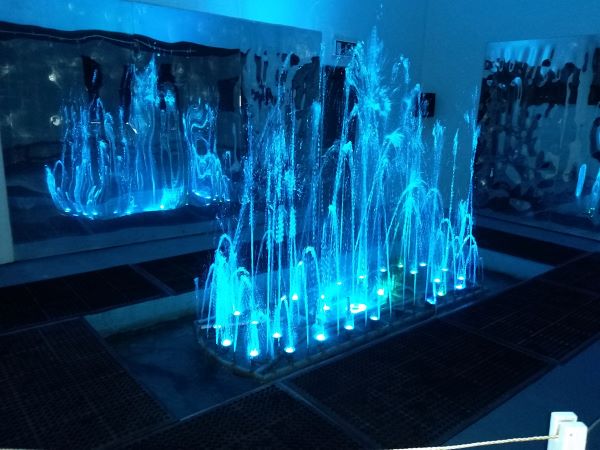 Eco Roof Top
The gently sloping Eco Roof Top is made up of ply, special insulation, felt and sedum grass.
It doesn't need much maintenance and the grass changes colour with the seasons.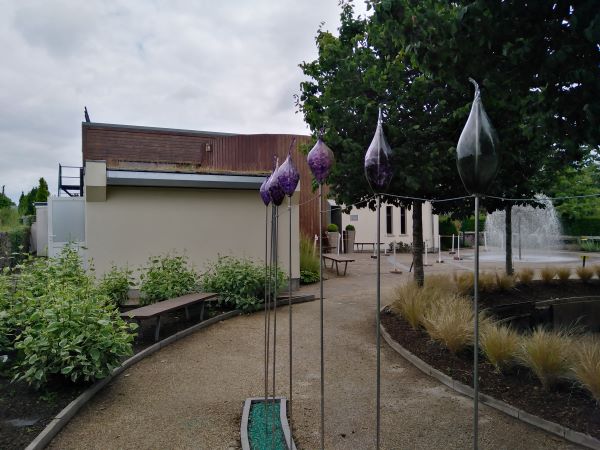 The Eco Roof Top is on top of the beige building (Sensory Building)

Café Thyme

The Sensory Building also houses Café Thyme where all the food is made fresh on site.
The menu includes delicious dishes like the Delta Ploughman's (which is served on treacle & wallnut bread), Café Thyme Classic Caesar Salad and also Pepper Turkey with Chorizo & Herb Stuffing (served on toasted sourdough bread).
Vegetarian, vegan and gluten free choices are available. Just ask and the friendly staff will be happy to accommodate you.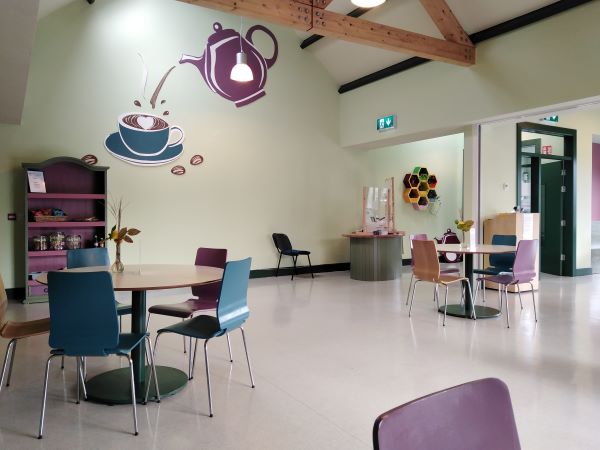 Regardless of the time of year, the Delta Sensory Gardens are well worth a visit.
They're designed to be accessible and enjoyable for everyone. Come and take in the beautiful sights, listen to the relaxing sounds of water or even just have an Americano and a scone in the café.


Delta Sensory Gardens - Location, Hours & Contact

Location: Strawhall Estate, Carlow, R93 Y959. (Less than 20 minutes walk from the town centre)
Hours: Monday-Friday 9am-5pm. Weekends and Public Holidays 11am-5pm.
Contact: 059 91 43527
---