County Carlow Military Museum


Housed in an old church, County Carlow Military Museum displays attention-grabbing artefacts relating to Carlow's military history. There are 3,500 items on display with another 1,500 in reserve.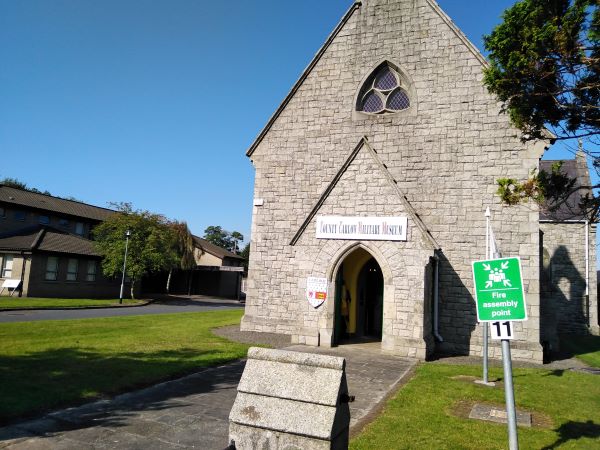 It was set up by a committee of ex-service personnel including Paul Maguire who showed me around the museum on the day I visited. Most of what's in the museum has been donated by the families of people who've been involved in military service.
Discover the incredible stories of Carlow men and women whose lives were changed by war.

Highlights of the Museum


Captain Michael Lennon
Captain Michael Lennon fought in the Irish War of Independence and the Civil War. He then joined the Irish Military Police and his last posting was Governor of Arbour Hill Prison.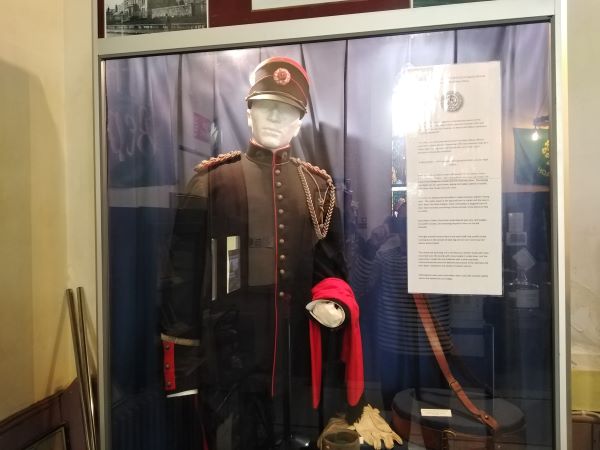 His service was virtually unknown to his family in Tullow until his uniform was found in a wardrobe.
It's a Captain's Dress Uniform of the Irish Military Police and was a lost treasure until it was donated to the museum. The uniform, including the gloves and spats are in mint condition.

UN Operations
From the 1960s to the present, the Irish Army was involved in Overseas Peacekeeping Operations.
On display are Mark 1 American Style helmets that were used in the Congo. These helmets were also used during the Second World War.
Paul told me that they're not bulletproof - even modern helmets aren't bulletproof. They'll suppress pressure from an explosion and a certain amount of debris but they wouldn't be able for a direct hit.
There's also various shoulder patches, cigarette lighters and badges on display.
Paul told me about the Niemba Ambush in which Irish Peacekeeping forces were killed on the 8th of November 1960. Lieutenant Kevin Gleeson (Officer Commanding) and Trooper Michael McQuinn were among the Carlow men who lost their lives that day.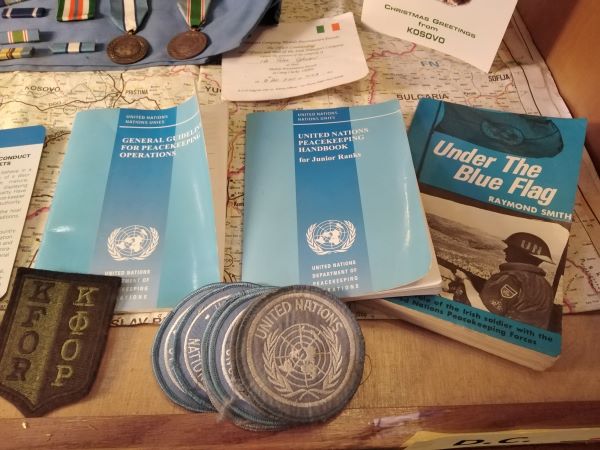 Model of Carlow Castle

An excellent model of Carlow Castle makes up part of a display of the castle's history. The model was made by Peter Heary who works in the museum.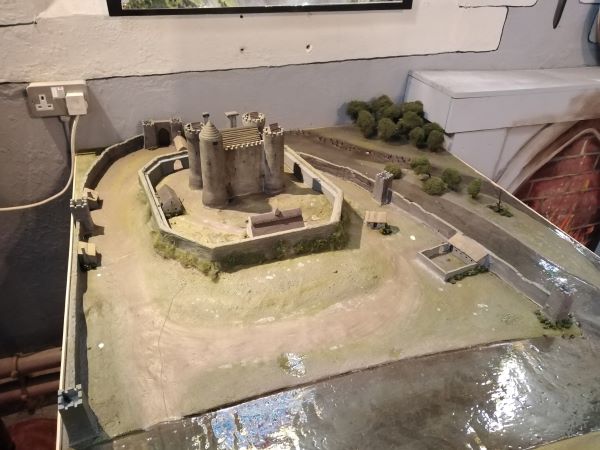 The castle was a Norman castle built from 1209 to 1213. It fell into disrepair in the 1800s and in around 1861 the empty structure was rented out to a Cork man - Dr Philip Parry Price Middleton.
The doctor wanted to refurbish it and divide it into a sanatorium. The plan was to enlarge the windows and create a main entrance door using explosives.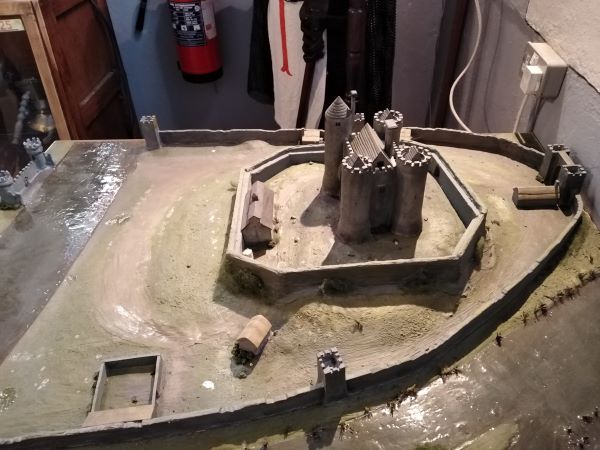 However, the castle was built on a granite peninsula and it had no foundations or cellars. So when he let off his charge, he got his windows but with a cost to the rest of the castle.
When the vibration of the explosive went off, parts of the building folded like a deck of cards.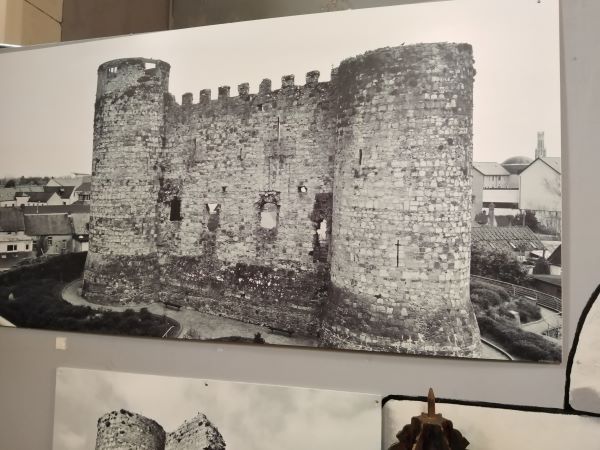 Photo of the east side of Carlow Castle
Over the years the outer skirt was demolished and formed the filling for what we now know as Castle Hill. The inner skirt was taken down and was used to build houses on Mill Lane.
Sadly, all that's left now is one wall and two towers.
Photo of what remains of the north side

Display of Weapons (Tools of the Trade)

In this display you'll see two .30 calibre Browning machine guns which were taken from a crashed airplane just outside Stradbally in Co. Laois during the Second World War.
It was an English airplane with a Polish crew of four. (When Poland was invaded by Germany, many Polish servicemen escaped to England and joined the Polish Air Forces.)
When the LDF (Local Defence Force) rounded up the crew after they parachuted, they thought they were Germans and put them in the German compound in Kildare.
Also on show are various rifles and Luger pistols.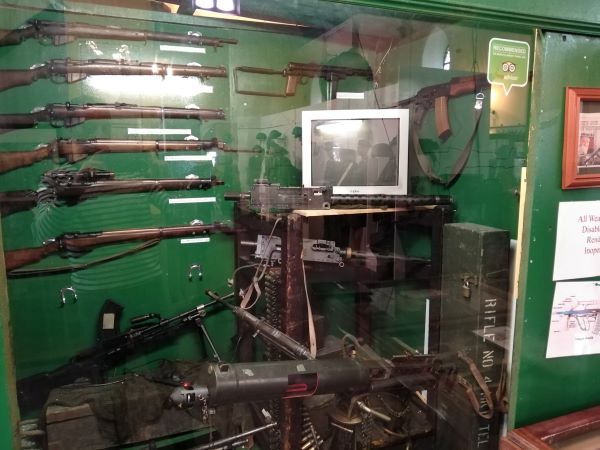 Captain Miles W. Keogh

One of the most well known military figures in Carlow - Miles Keogh came from Leighlinbridge. He was a career soldier and a single man.
Keogh fought with the Papal Army during the War for Italian Unification and was awarded a medal by the pope which is on display.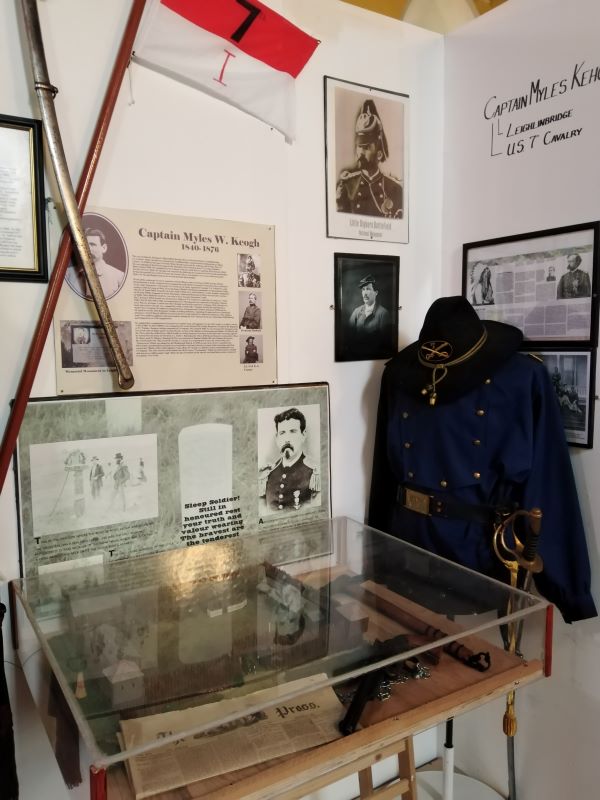 After Italy he fought for the Union during the American Civil War. He then joined Custer's army and died at the Battle of Little Bighorn in 1876.
The family house is still in Leighlinbridge and it contains some of his personal effects.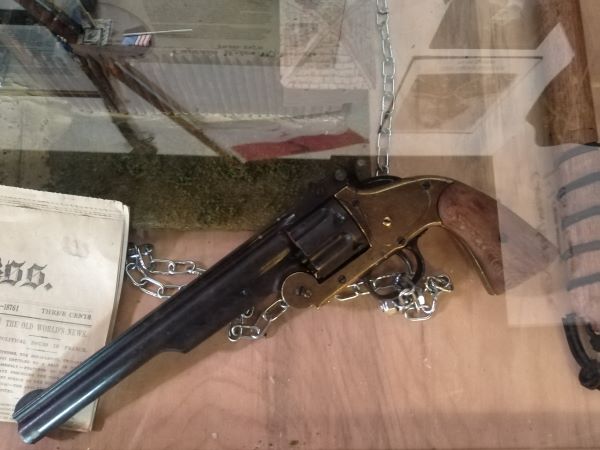 Pistol belonging to Miles Keogh

Hitler's Fortress Island

Most of the items in this display came from Lily O'Neill who was originally from Graiguecullen. During the Second World War she was living in Guernsey with her English soldier husband.
The German Army landed on the island and took it over for three years.
In 1945, knowing that they were losing the war, the Guernsey Garrison of about 500 German soldiers surrendered leaving behind many artefacts.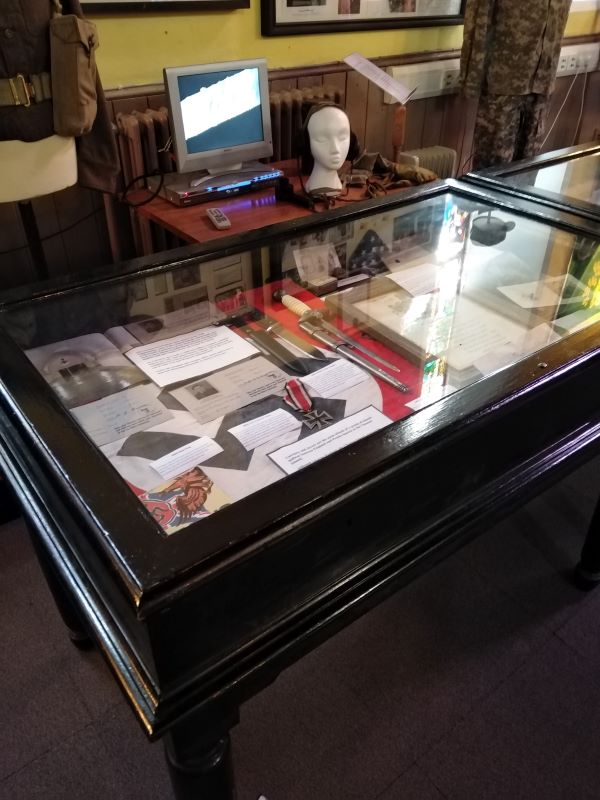 On display there's an original Hitler Youth Knife which has My Honour is Blood engraved on it and an Officer's Dress Dagger of the Luftwaffe.
Also on show is the Nazi flag that was outside the O'Neill house on the island.

Battlefield Recovered Items
Here you'll find a collection of IEDs (Improvised Explosive Devices) from the German and the Allied side of the Second World War.
There's the world-famous and notorious Bouncing Betty which would've been packed with high explosives and ball bearings.
Also on display is a Second World War and British manufactured Claymore Mine which could take out a tank. Mills Grenades and rounds for a German anti-aircraft Bofors Gun can be seen too.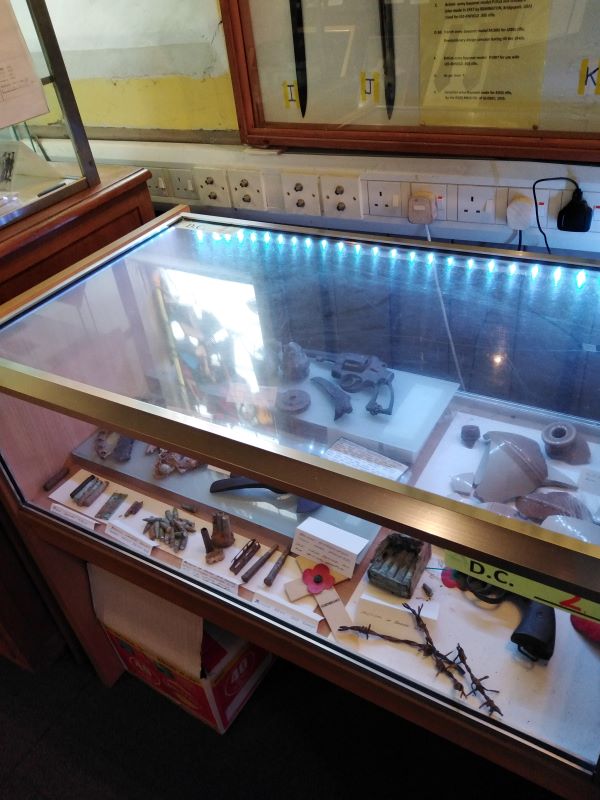 You can see a particularly insidious German World War Two Shoe-Box mine. It's made entirely of wood and would've been packed with C-4 explosive.
Paul explained that it was never designed to kill but the intention was to blow somebody's feet off. The reason being, if you have a patrol of ten men and if the mine can invalid two or three of them then you'll need another two or three to carry them. Therefore your fighting force of ten men is now reduced.
Also exhibited is a United Nations Handbook on landmines which came out in the '70s and '80s.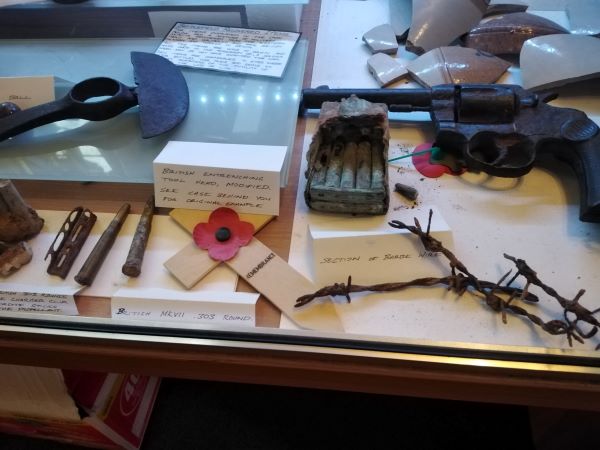 Bayonets
This collection has many different nationalities of bayonet.
There's a French Lebel Bayonet which has a cross-section like a Phillips screwdriver. If you were unfortunate enough to have been stabbed with it, because of the four sides it would've been difficult to stitch the wound. Soldiers would also put human excrement on the bayonet tip so as to infect the victim's wound.
This bayonet was outlawed in 1919 by the Geneva Convention which meant they weren't manufactured anymore but there were still plenty of them about.
There's also a knife bayonet made by Mauser in Germany. Because it's big and beefy, it could also be used as a sword.

Cold War Era
From the 1950s onwards, Russia and the West went into cold separation.
If war broke out between them, Ireland would've been the first landfall for the Americans and the last one for the Russians.
Until 2016, the Russian Consulate in Dublin had a department whose function was to map every county in Ireland. A colonel in charge came down to Carlow to map the movements of road, rail and transport.
The map on display was made in 2006 and would've been updated every week.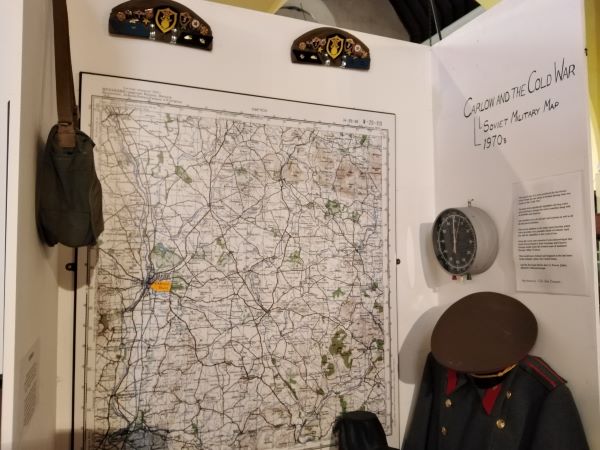 Follow Them Up From Carlow by Paul Maguire
Paul has written a book - Follow Them Up From Carlow which is about local men and women from Carlow who went to the Great War.
They left Carlow for the Curragh and from there they travelled to France, Turkey, Gallipoli, Macedonia and so on - 520 Carlovians would lose their lives. Some of his own family are mentioned in the book.
Taking three years to write, it's an excellent book for research on Carlow military history.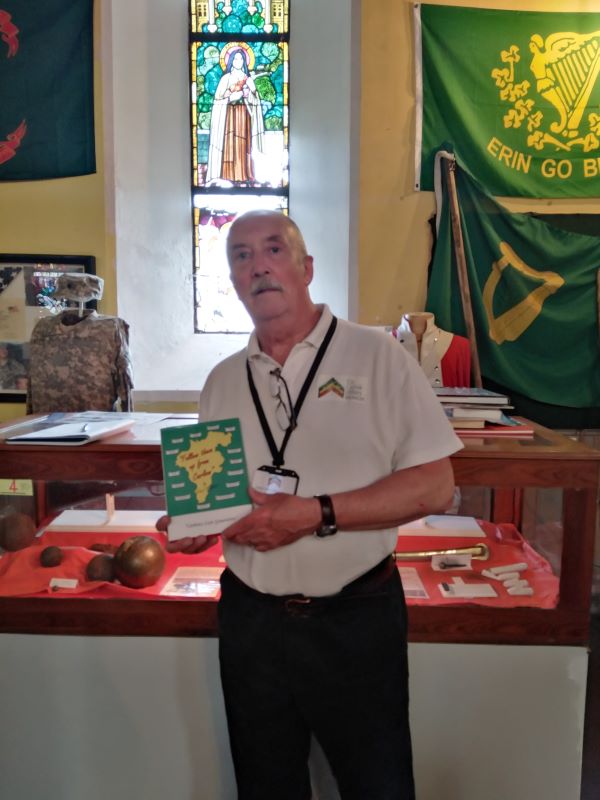 Paul Maguire
Paul told me "My reasoning for writing Follow Them Up From Carlow was to acknowledge and remember all those from this county who have virtually been left out of the story of Carlow and its roots.
It's only in recent years that any interest has been shown as to where they went and what they experienced during the biggest tragedy to befall this country and county since the famine. I wanted to reunite a generation of Carlovians with our family and neighbours."
Copies of Paul's book are available in the museum for €10 each.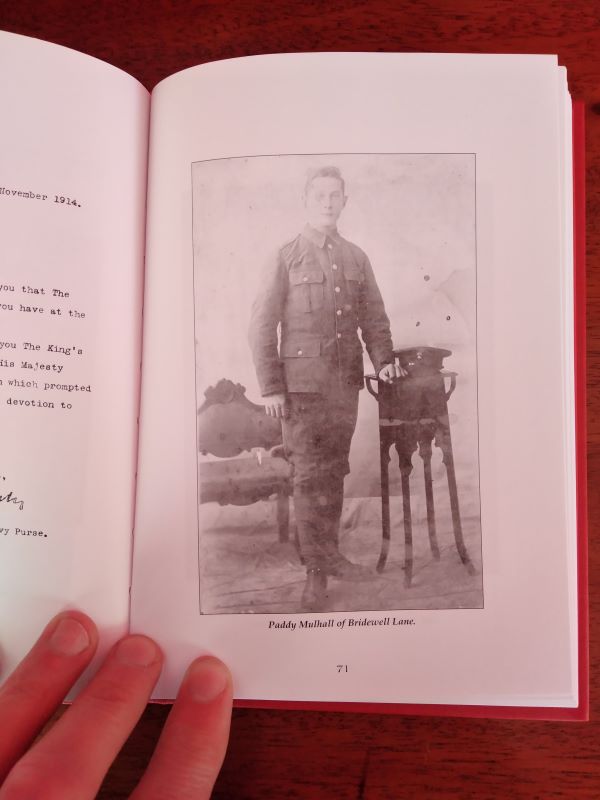 Follow Them Up From Carlow tells the story of Carlovians like Paddy Mulhall who fought in the Great War
The Museum is a great chance to explore Carlow's fascinating military history. It's amazing how much has been fitted into this small space. It's also wheelchair accessible.
You'll find it interesting even if you're not a military enthusiast.

County Carlow Military Museum - Location, Hours & Contact
Location: Old Church, Athy Road, Carlow, R93 PK46. (Less than 10 minutes walk from the town centre)

Hours: March-November, Sundays 2-5pm.
Contact: 087 690 4242, Email militarymuseum@live.ie
County Carlow Military Museum
---